Swyamsewak Se Mukhaysewak Tak: Living document of Chief Minister Manohar Lal's struggle and dedication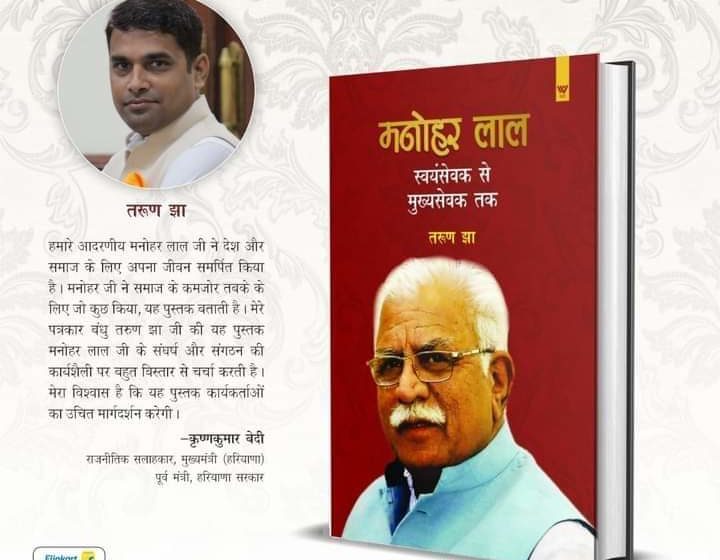 New Delhi: This book unfolds the slow and intensely watchful journey of a yearning doctor who never aspired to be a politician. However, the unprecedented circumstances land him on a path unexplored yet meant for him. The esteemed Manohar Lal Khattar had never aspired to be a politician, but he had always been a guiding force in devising strategies for election campaigns. The journey from off stage to contesting assembly elections and eventually becoming chief minister has been phenomenal. Manohar Lal's success as a non-Jat chief minister in a Jat-majority state came as something of a surprise in Haryana politics. Even by contrast, a segment of the media has been antagonistic to rightwing chief ministers like Manohar Lal. In such a case, this book both critically analyses Manohar Lal and thoroughly discusses his virtues.
The book is a biblical narrative encompassed in six sections, wherein each individual section is a fascinating brief of the legendry untold events of the life of chief minister. This book has six chapters and is just 172 pages long. The first part of the book tells the progressive narrative of Chief Minister Manohar Lal from his childhood to being an organisation minister, while the second chapter tells the inner story till he became chief minister and the author's own recollections from that period.
The third part evaluates the government's performance, while the fourth chapter investigates the Chief Minister's motto "Haryana Ek, Haryanavi Ek."The fifth chapter chronicles the discourse of the Bharatiya Janata Party's ascent in Haryana. Finally the sixth and last chapter has many wonderful accounts surrounding Khattar Kaka.
Being a TV journalist, the writer had an opportunity to witness closely the journey of CM Manohar Lal allowing him to personally observe CM Manohar Lal's political journey. This adds to the authenticity of the book. The book tells the unseen narrative of Chief Minister Manohar Lal's personal and political life in a very engaging way, with the inner story of becoming Chief Minister being its main selling feature. This book is a live chronicle of Chief Minister Manohar Lal's effort and commitment.
Book – Manohar Lal – Swyamsewak se Mukhaysewak tak
Author – Tarun Jha
Publisher – Yash Publications
Price – Rs. 199
Reviewed By
Raghav Sanjeev Gharoo
Renowned columnist