Actor-Singer Amogh's first official music video "Khuda" launched, 'Youngistaan' liked it, Views reached 1 million on first day only
Noida: Amogh, a resident of Noida, is making a splash with his song. His debut Punjabi-Hindi song "Khuda"  is being liked among youths . This song has got more than one million views in a single day only on youtube. Amogha has been very talented since childhood. "Khuda" is his first Punjabi-Hindi song which has been released worldwide by the well-known channel of Punjab, Jass Records Worldwide and the song is available on all OTT platforms other than YouTube like- Gaana, Wink, Spotify. Also available on iTunes, Jio Saavn and Amazon Music.
Amogh …the journey begins
Prodigies are born to delight the world with their talent. One in a few million children only qualify as a prodigy. Amogh is one such prodigy.
At the age of 2.5 years, Amogh started his musical journey by participating in school functions. His rendition of 'Chanda chamke chum chum' from movie Fannah, won him a standing ovation. That's another thing that he had to climb in the lap of the teacher to be visible to some 800 audience members in the hall.
Amogh has not looked back ever since. Winning one award after another, Amogh was the permanent medal winner for his school in Jalandhar. He has represented his school JP Public School, Greater Noida in many competitions.  Resident of ATS-Pristine, Noida, Amogh is a State-level badminton player and also excels in studies.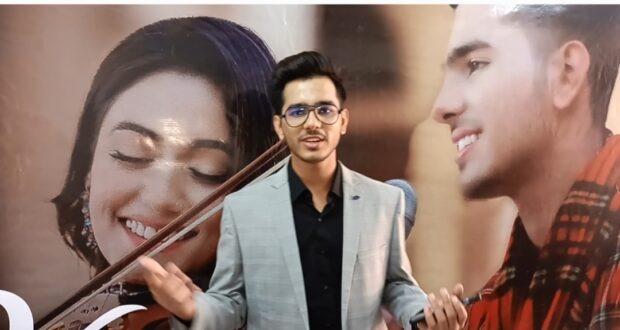 Despite being in and out of hospitals for 7 years, he kept on practicing on his own so that his original style was not cramped or compromised. Maybe that's why, with hundreds of hours of practice, Amogh's voice texture is uniquely unmatched.  His style is a manifestation of feelings and melodies that come straight from heart. Instead of focusing on nuances, Amogh style is free flow, care free – Dil se, that strikes a chord with the heart directly.
Amogh KHUDA has already won recognition from industry with invitations from multiple music houses as well as some noted music directors. Amogh shall be on many FM radio stations in next couple of days.
His second music video, a fast foot tapping number, expected to be released this month, will surely have listeners grooving and yearning for more.