A P Pathak: Paving the Way for Bureaucratic Excellence to Political Leadership in West Champaran
A P Pathak, a former bureaucrat with an illustrious career in the Indian government, has emerged as a prominent leader within the Bharatiya Janata Party (BJP). His journey from the bureaucratic corridors to the political arena has been marked by his unwavering dedication to social welfare through the Babu Dham Trust in the West Champaran district. With his recent affiliation with the BJP, Pathak's growing influence and positive rapport with key party leaders have ignited discussions about his potential role in national politics, including a prospective opportunity to contest the Valmikinagar Lok Sabha seat.
A Bureaucrat's Transformation: A P Pathak's transition from a seasoned bureaucrat to a dynamic political leader has been nothing short of remarkable. Having served in various capacities within the Indian government, his shift to the political spectrum was driven by a desire to effectuate change at a grassroots level. Throughout his tenure as a bureaucrat, Pathak's commitment to public welfare and community development laid the foundation for his later engagement in politics.
Social Upliftment through Babu Dham Trust: Pathak's involvement in social initiatives gained prominence through the Babu Dham Trust, an organization he has tirelessly championed in the West Champaran district. Through this platform, he has orchestrated and spearheaded numerous initiatives aimed at addressing critical societal issues such as education, healthcare, and poverty alleviation. The trust's consistent efforts and impactful projects have endeared Pathak to the local population, solidifying his reputation as a catalyst for positive change.
Joining the BJP and Building Bridges: A P Pathak's decision to join the BJP has garnered widespread attention and intrigue. His established rapport with key leaders within the party speaks volumes about his dedication and potential contribution. Pathak's alignment with the BJP's ideology and values has positioned him as a promising addition to the party's ranks. His ability to bridge his bureaucratic experience with political aspirations presents a unique blend of skills that can drive meaningful progress.
Prospects for the Future: Pathak's affiliation with the BJP has sparked conversations about his future role in national politics. As discussions abound, there is a growing sentiment that he could be a strong contender for the Valmikinagar Lok Sabha seat. His extensive work in the West Champaran district, combined with his understanding of governance, presents a compelling case for Pathak to represent the BJP in a larger capacity.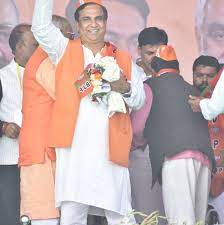 From Bureaucrat to BJP Leader, Championing Social Causes in West Champaran: A P Pathak's transformative journey from a bureaucrat to a BJP leader exemplifies his commitment to societal betterment. Through his active engagement with the Babu Dham Trust and his recent foray into politics, he has carved a unique path that resonates with both grassroots initiatives and larger political aspirations. As Pathak's association with the BJP evolves, the prospect of his candidacy for the Valmikinagar Lok Sabha seat underscores his potential to effect meaningful change on a broader scale.