Allu Arjun to Alia Bhatt: 7 Celebrities with most amazing vanity vans.
New Delhi: Indian Celebrities are known for not only loving automobiles such as luxury cars, bikes and Racing Cars. But there are a few who also got praised for their choice of vanity van. During a shoot they seek perfection in their outfit and their make-up to which vanity van act as a perfect portable dressing rooms. A lot of celebrities are known to have approached DC to revamp the interiors completely to give these vans look like a 5-star hotel on wheels. Here are a list of 7 Indian celebrities who owns the most amazing Vanity vans.
7 Indian celebrities who own the stunning vanity vans.
1.Allu Arjun:
When it's about who got the most stylish vanity van, thinking of a name other than Stylish Star Allu Arjun would be a crime. Allu Arjun vanity van is called 'Falcon' and is designed by Reddy Customs Caravan, costing a whooping amount of 7 Crore Rupees. It's a jet black van with silver and black plush interiors.
Equipped with a comfortable looking recliner, that provide complete comfort to the actor as he gets ready for his next shot. This 360 Degree free moving recliner can be use as a TV recliner when not used by the star for getting ready. This vanity van have a bed, a sofa for guest. The lights on the ceiling can also change according to the mood of the actor. This van also features a full-sized toilet, complete with a shower and ambient lighting. This vanity van is customised on a Bharat Benz Chassis.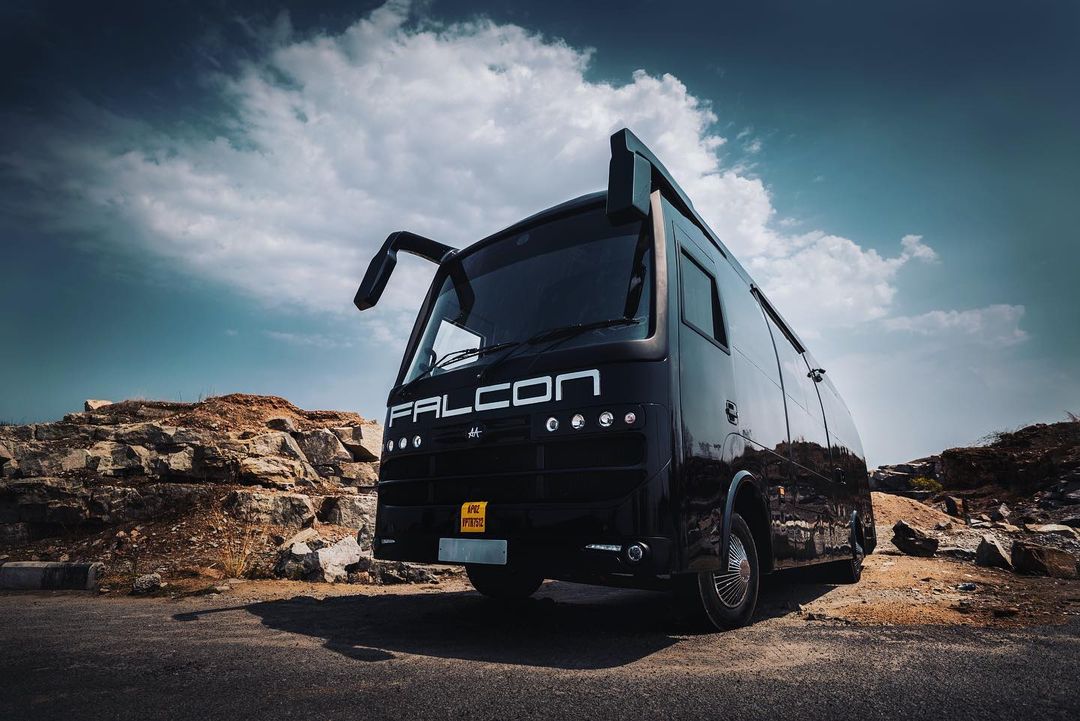 2.Shahrukh Khan:
If the fans need one more reason to address Shahrukh Khan as King Khan, they can add his vanity van too. Shahrukh Khan's vanity van is customised on a Volvo BR9 Chassis and is customised by Dilip Chhabria's DC Designs. The feature of this vanity van includes a glass floor, panty section, a wardrobe section, a special make-up recliner and a separate toilet cubicle.
As per Indian Express report, Shahrukh Khan's vanity van can be extended from one side when it is parked. This van also comes equipped with Bose TV. As included feature suggests, King Khan ended up paying a whooping sum of 5 Crore Rupees.
3.Salman Khan:
If you are assuming Salman Khan vanity van as a caravan which he drove in Hum Saath Saath Hain while singing the A-B-C-D song, then you are wrong. Just like Shahrukh Khan and many other Bollywood celebrities Salman Khan also got his vanity van designed by DC Designs.
Salman Khan's vanity van is considered to be most stylish van in Bollywood and also most popular vanity van. As per sources the Vanity van consist of 2 Room, a rehearsal room, toilet and washroom. The work done on interior is not what amuses most of the viewers, but the exterior is. This vanity van have a futuristic exterior. But for fans the best part is Salman Khan's own poster hanging on the walls of this van. This vanity van costs around 4 Crores Rupees.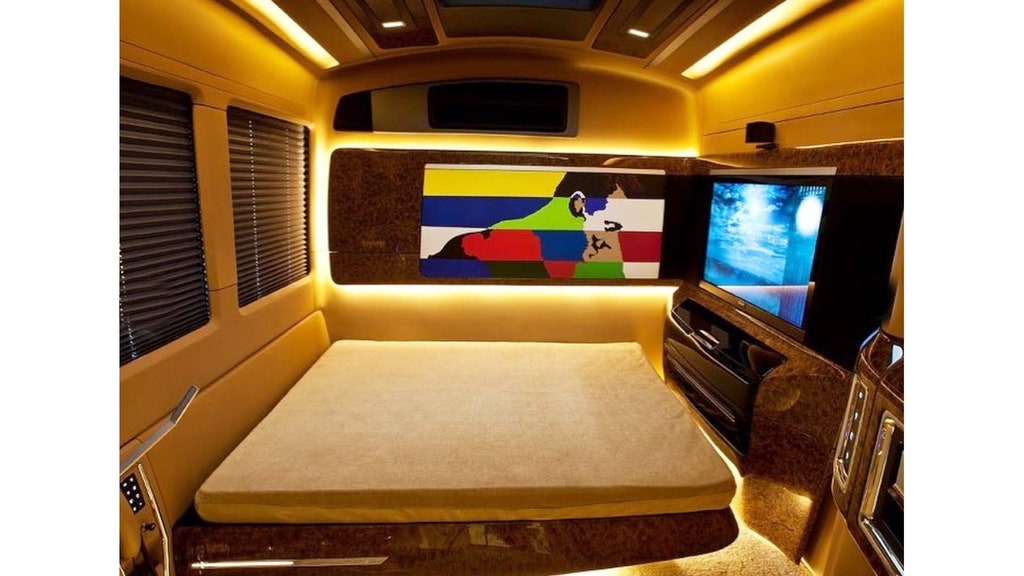 4.Hrithik Roshan:
Krrish of Bollywood, the first ever Indian Superhero owns a Mercedes V Class vanity van. This 12 Meter long vanity van is divided into three sections, first section is his office, middle section is bedroom and last section consist toilet and washroom.
This vanity van is considered as ultra luxurious with wooden and glass interior. It has a black and white texture to it. Like Shahrukh Khan and Salman Khan, he also got his vanity van designed by DC Designs. As Hrithik fans know him as a tech savy, his vanity van speaks that passion out loud. The cost of this vanity van is around 3 Crore Rupees.
5.Sanjay Dutt:
Sanjay Dutt is known as a big fan of luxurious cars. Sanjay Dutt's vanity van is customised on Volvo B7R and it's a 12 Meter long vanity van. At the centre of the van there is a bar with a refrigerator, espresso tables and chairs. There are also two 52 inches screens with AV facilities, a gaming console, and computers.
The van is inspired from Airforce 1. Like Salman, Shahrukh and Hrithik he also got his vanity van designed by DC Designs. This vanity van is worth 3.5 Crores.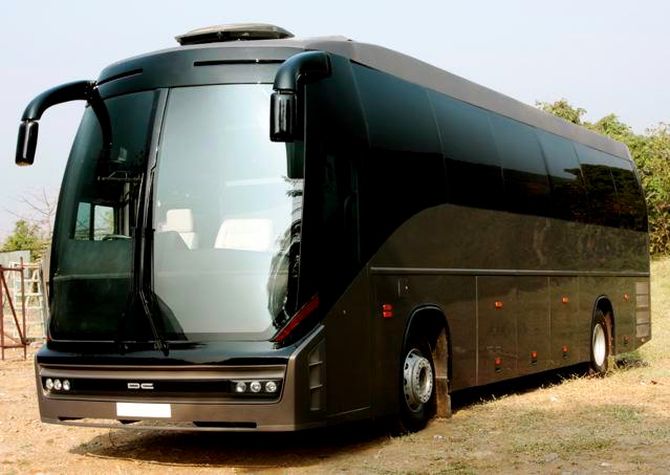 6.Ajay Devgan:
Ajay Devgan has a vanity van which is not only good looking but also most equipped vanity van in bollywood. The bollywood Singham have a sports car looking exterior of his vanity van. During the shoot of Singham Returns, Ajay got his vanity modified to get a gym inside it for his workout so that he didn't miss a single routine.
Besides the Gym the van includes an office, a room, a restroom and a kitchen. The cost of his vanity van remains a mystery because after the re-modification it's hard to assume.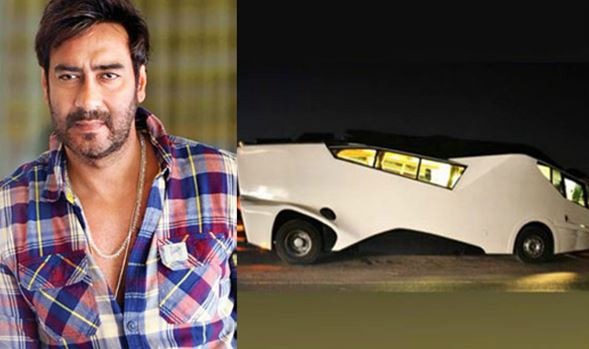 7.Alia Bhatt:
Known for her bubbly persona, Alia Bhatt's vanity van also showcase her colourful and bubbliest nature. Her vanity van is considered as most colourful and bubbliest vanity van. Alia Bhatt has designed her van in such a way it looks different from all the above mentioned vanity vans.
While most of the celebrities are fixated on the tech and the finest upholstery, Alia has turned her van into a HOME. It never fails to justify her 'cute' tag. There is an extensive use of vibrant colours on the walls, and motivational quotes are engraved on it. Alia Bhatt got her vanity customised by Amrita Mahalnakani.